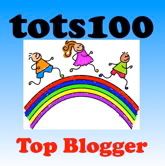 I got a text yesterday from a dear friend who I used to work with, we both share a love of theatre, men and good wine.
This text was to tell me that he'd spotted 'My Blog' in the Tots 100.
This is quite ironic.
He looked at me quizzically when I first told him about 'My Blog'. After two bottles of wine I blithered showed him the site and how it all worked and how amazingly clever I'd put it all together and how it runs – he was slightly more won over.
This is also quite ironic.
I was thinking how on earth would he know about Tots 100? How many gay men read parenting blogs?
So I texted him straight back.
'Sally twittered a link the list' he replied.
Wow, I thought….then I wondered again.
Sally, Sally, Sally……she must belong to UKPress…because that's the only list me and my friend both follow…hmmmm.
Bingo – she's a journo and badabadabing – she created the Tots 100 – I lover her!
And thanks, I am chuffed to bits again to be at number 36 – it matches my bra size….which is also….ironic….