Wow, Father Christmas was moving in deeply mysterious ways this Christmas. He was testing my patience and attention to detail while putting Miniminx through her paces too.
First there was a bit of a Spinal Tap moment with a Christmas present mishap.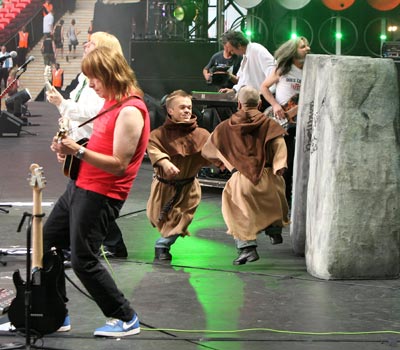 After our trip to the Zoo for the BMB get together, we were totally in fact it was me, me, me enchanted by the shivering meerkats, so much so that I adopted one of them called Sparkle for Miniminx as a gift to present to her on Christmas day. Since we obviously couldn't got to the Zoo on Christmas Day, I had ordered a 'cute figurine' on Amazon as a representation of her newly adopted pet. It arrived – much like Stone Henge did on stage with Spinal Tap – about 10 times smaller than originally thought. So instead of a 5.7 inch figurine, it was 5.7 cm and it was too late to exchange it too. To add insult to injury the Zoo did not send Miniminx an email with the adoption certificate which I'd requested to land in her inbox on Christmas day. All in all a bit disappointing really.
And then we went from comparing the meerkats to comparing the Mileys. For we had a great bit of luck – out of nowhere my lovely friend Liz at Living with Kids magicked up tickets to Miley Cyrus so thanks a million to her and also to Grace at Disney for hosting us at the 02.
So off we went last week to the 02 – by train and then boat and into the arena. After watching the support band, the girls could hardly contain themselves. Miley arrived on stage in a kind of iceberg pod. Pushing all further thoughts of Spinal Tap aside, I resigned myself to an evening of screaming kids and loud music – just like at home but magnified by tens of thousands.
As she emerged from the chrysalis, it was the first indication that we were going to meet a girl who was coming of age. She was nothing like the Miley/Hannah Montana which we see on our TVs every day – her voice was almost gravelly. Her hair was brunette and down to her waist. She had a massive attitude and a stage set to match.
Miniminx and her friend, like all the other kids in the audience went completely crazy and waved their glow sticks like mad. They didn't give a hoot whether it was Miley Montana or Hannah Cyrus, whichever way you put it, they were at their first gig together and to them the atmosphere was electric.
I had heard that there had been some backlash about girls expecting to see a Hannah Montana show and being disappointed instead when they got Miley Cyrus. I disagree – there was an element of surprise and I think these girls were quite savvy and could tell the difference. At nine years old, they are not so easily fooled. Everyone has to grow up and this show was all about getting the point across in no uncertain terms. There was a photo of Miley in the programme where you could easily spot her pierced nose but no sight of the tattoo she is rumoured to have had done.
There were dozens of outfit changes throughout the show, but no wig – which I do believe a lot of people might have expected. That said, she did perform the Hannah Hoe Down at one point so there was more than a mere nod to her fledgling roots steeped in the Disney creation that has made her world famous.
Miley had many looks throughout the show. She looked like a real princess in this outfit – quite elegant and sophisticated and the girls loved it.
And in a complete about turn, she arrived on stage in black hotpants and a skinny top to perform a new song Girls Night Out. Still no sight of the the tattoo!
This was a very new and grown up version of Miley – however she did not have the confidence in herself that I thought she might – she sang a lot with her back to the audience and her hair was in her face a lot of the time so while to some she may have seemed overly precocious, she still seems young. I was pretty impressed by the fact that she's a good few years under 20 and has a great voice and a lot of presence.
While the audience was packed full of young Hannah Montana fans, there were a few treats for the parents too, especially when she did a great cover of the 80s Joan Jett anthem 'I Love Rock and Roll' and flew over the crowd on an amazing red Harley Davidson motorbike. And yes, I embarrassed the youngsters and sang along to it. If you can't beat them join them I say!
At the end of the show she sang two encore songs, finishing with The Climb from the Hannah Montana movie. There really is no one else that can sing it better than her and everyone left on a high note.
Miniminx and her little friend remained gobsmacked about the outfits, and the songs, and the noise, in fact about it all. And nearly a week later, they still are wowed by the event which means they'll be having a few good conversations over their lunch boxes come the new school term.
I'm glad we went, it's always good to see these things for yourself and make your own mind up.
I may just get Miniminx to write her own review up…